A Long History of Supporting Businesses
Why Choose to Advertise with AACYP?
The Original Arab American and Chaldean Yellow Pages for over 20 years
Widest distribution of any Arab American and Chaldean Yellow Pages in Southeastern Michigan.
Advertisements developed by Marketing Experts
Learn more about the ONLY Yellow Pages that connects the Arab American and Chaldean Communities Michigan
Although all have emigrated from the Middle East, Arab Americans and Chaldeans have their own distinctive communities and cultures. We have created a targeted ethnic marketing tool and publication that helps consumers and businesses connect and collaborate. We are a business to business publication as well as a consumer to business publication. Whether you want to learn about the Middle Eastern community in Metro Detroit or do business with them, we can connect you to the communities. Arab Americans and Chaldeans reside in Southeast Michigan in large numbers. More than 160,000 Chaldeans live in Metro Detroit. There are believed to be more than that same number of Arab Americans from various countries who call Southeast Michigan Home. We also live in a very global world and we connect people through our internet presence from around the country. The Middle Eastern community is both entrepreneurial focused and people who work in various professions. We list businesses by category and also publish industry-related stories for various sections. The content is designed by talented bilingual graphic designers. Layouts are available in color or black and white.
Our Publication's Mission
This publication is designed as a Yellow Pages marketing book. Since 2003, the Arab American and Chaldean Yellow Pages has connected business owners to other businesses as well as to customers. It is about people who want to do business with the Middle Eastern Community in Metro Detroit. We share advertisers' images and industry stories to keep people informed and engaged. This bi-lingual yearly Yellow Pages targets both the English reading and Arabic reading communities. We also have an online presence and keep the advertisements and content updated on our website on a regular basis.
About the Middle Eastern Community in Metro Detroit
The Greater Detroit area has one of the largest settlements of Middle Eastern people including Jews, Chaldo-Assyrians and Arabs in the United States. As of 2007, it is believed about 300,000 people in Southeastern Michigan traced their descent from the Middle East. Dearborn's sizable Arab community consists largely of Lebanese and of more recent Yemenis and Iraqis. Meanwhile, many Assyrian/Chaldean/Syriac who immigrated for jobs in the auto industry in the 1920s, reside in Oakland and Macomb counties. In 2010, the four Metro Detroit counties had estimated 300,000 people of Middle Eastern origin, excluding Jews. From 1990 to 2000 the percentage of people speaking Arabic in the home increased by 106% in Wayne County, 99.5% in Macomb County and 41% in Oakland County. Middle Eastern people have called Metro Detroit home since the start of the 20th Century.
Founder's Bio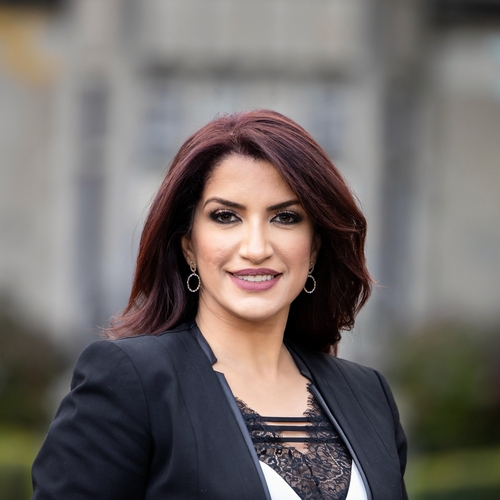 Ayser Najeeb immigrated from Iraq to the United States in 1998. Soon after, she began her studies and earned degrees in Business Administration, Marketing, General Studies, and Liberal Arts. Ayser is the president and owner of Much More Marketing Inc., an advertising agency serving the Arab American and Chaldean communities in Michigan since 2003. One of her main professional accomplishments was the launching of the Arab American and Chaldean Yellow Pages, an annually printed business directory connecting businesses with consumers. Ayser has received many awards and acknowledgments for her accomplishments and community contributions. She received the Excellence Award from the International Institute of Metropolitan Detroit in recognition of her exceptional professionalism and contribution to the unique American culture. Since 2013, she has been a member of the Chaldean Chamber of Commerce.